We wait for you
Our company has stood up for several years for the production of a refined line of professional wear for hotels, restaurants and bars, very appreciated for the quality of the product and for the competitive price.
We sell above all through our catalogue, and make the most of all occasions to know our customers personally, to listen to their needs and to suggest them the most suitable solutions.
Let's meet at the exhibition!
We are waiting for you at our stand, where we'll welcome you with enthusiasm and friendliness and will show you the the last news of our collection of professional wear.
The next exhibition
We'll attend the next SIA Hospitality Design, the International Hospitality Exhibition, that will take place from 11th to 13th of October 2023 in Rimini (Hall D1 – Stand 036). We invite you to discover our new collection of Hotel Uniforms that we'll introduce there for the first time.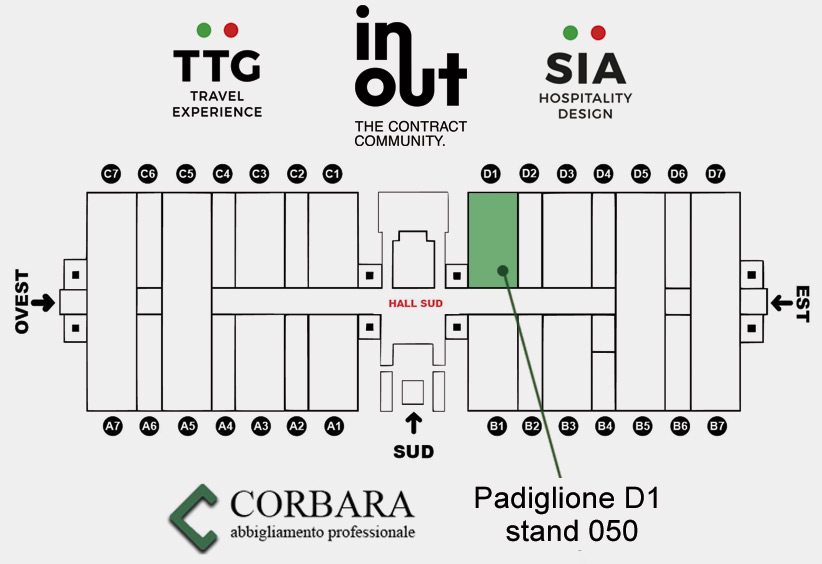 SIA Hospitality Design - Rimini
SIA Hospitality Design, starting this year joins InOut-The Contract Community the new appointment for the contract community, is the most comprehensive showcase in Italy for the hospitality sector: from interior design to gadgets, from services to hotels to technologies, from supplies and accessories to cosmetic products.
You can find further information on the official web site of the exhibition: en.siaexpo.it/