Professional Wear: uniforms for Pastry stores and Ice Cream Parlors.
Dolcery, our collection of professional wear for Pastry shops and Ice Cream parlors, that combines elegance, style and novelty.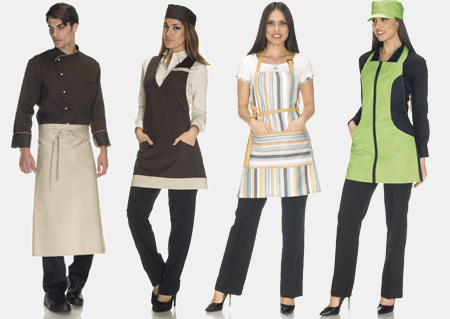 The Brown and Ecru Series is characterized by the combination of the two colours: mixing the garments with the accessories in the same colour or in contrast, you get an attractive and innovative look; in this line we present several Aprons, Pinafores, accessories and a Pastry Chef Jacket, ideal for both the workshop and for the counter.
A nice alternative is represented by the Mint and Fuchsia Series, characterized by the use of two bright colours with white inserts; this line consists in Aprons, Pinafores, accessories and a polished Cake Designer Jacket, perfect for the decoration professionals.
The Revelè Lime and Violet Series, available in two very fresh and pleasant colors, Lime and Violet, offers a charming aprons, caps and accessories for the counter, which are distinguished by the delicate overlapping effect given by two shades of color.
The Nemo Series, characterized by the particular camouflage pattern of the fabric, includes Aprons and coordinated Caps and a charming female jacket for workshop with a skirt; as to the colour, we preferred a bright tone of blue, black and air force blue, instead that the classical military pattern.