Professional wear for Restaurants and Bars: Ties, Bow Ties and all the Accessories for catering uniforms
An indispensable accessory for Restaurant and Bar professional wear, the ties, bow ties, scarves and other accessories in this section of the site make your uniform complete and unique.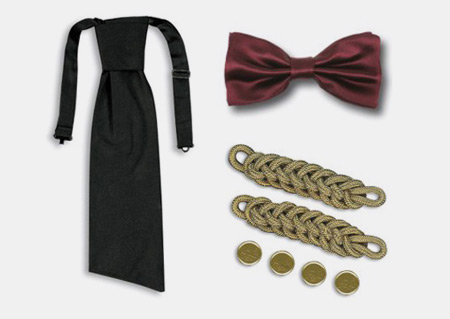 In the sub-categories Caps, Bow Ties and Ties you will find unisex caps, Bow Ties and Ties in solid colors and coordinated patterns to be combined with the Vests and Aprons in this category.
Under Women's bow ties we propose women's ties that are shorter than traditional ties, models Gala, Alice, Nodino and Ribbons.
In the sub-category Jerseys and Sleeveless Jerseys we offer men's and women's Jerseys and Sleeveless Jerseys in knitted cotton blend, ideal for serving at the bar and restaurant in the mid-seasons.
This section of professional attire is completed by the Various Accessories category, with service Gloves, elastic Band, spare Buttons and gold and silver epaulets.