Chef Clothes: our chef uniforms.
White and Black Chef Jackets with carry-overs and colored trims, Cooking aprons both white and colored, footwear, caps and all the other various Accessories, if you are a professional chef then this section on chef's clothing is all for you.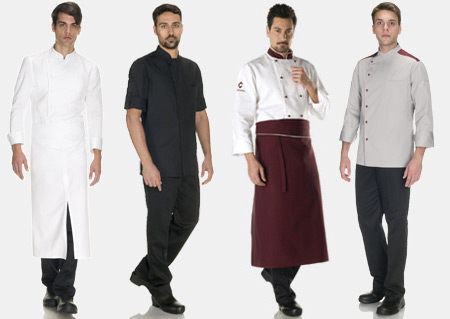 In the sub-categories Gran Maestro Series, Best Chef Series and Academy Series, we propose our more important chef jackets for the quality of the fabric and the finish. These Jackets are designed for Executive Chefs and Sous-Chefs.
In the sub-category Classic and Gran Galà Series you will find our classic chef jackets, at an unbeatable price for quality, and our Gran Galà line with jackets for men and women.
In the sub-categories Dinamico Series and Grand Prix Series you will find chef jackets and coordinated aprons in bright colors and designs, ideal for a young and modern kitchen, or for making an "effective entrance".
In the sub-categories Dishwasher, Aprons, Trousers, Footwear and Caps and Bonnet Hats, you will find the natural accessories to complete these Jackets: kitchen Aprons with and without bibs, Trousers, Footwear and Chef Hats.
In the category Kitchen Accessories, we introduce various accessories, such as buttons for chef jackets, kitchen towel, neckerchiefs and personalized embroidery that complete this section on Chef Clothing.