Chair Covers, Table Skirts and Table linens for Restaurants.
In this section we offer our collection of Chair Covers, Table Skirts for breakfast and banquets, and tablecloths of Restaurant and Bar.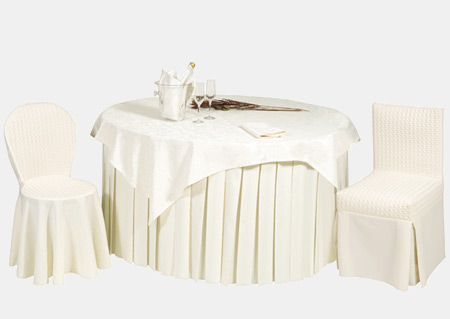 In the Table Skirts category, you will find table skirts for Buffets and Catering; produced in 6 different colors, buy by the metre or in 2 meter modules, they are available in three different models: Plissè, Fiume and Doria.
In the category Chair Covers we propose coverings for the chairs in your restaurant. Extremely functional, used to protect more important seats or simply renew chairs that are no longer new. Two types of Chair Covers are available: Rondò for chairs with a curved back, the classic Thonet, and Impero for square backs. There are three models: "Quilted", "With Cushion" and "Standard". Made of resistant 100% Wrinkle free Polyester Gabardine Plus; they can be made in various colors and exclusively "tailor made" for the customers chair.
In order to complete this online section on table linens, the Amalfi Table Linens an elegant Jacquard fabric, available in the Classic version and the coordinated "Double" version, and the Campagnolo Table Linens available in four delicate shades. Both tablecloths are ideal for those who want a tablecloth high quality cotton blend (Pol.54% Cot.46 Amalfi, and Cot.50% Pol.50 Campagnolo), elegant, refined and extremely resistant to industrial washing.