Reception Professional Wear.
In this category you will find professional wear for reception employees (front office and back office) and uniforms for hotel managers such as the Director, food & beverage manager and the housekeeper.
From morning dress for classic and prestigious structures, to more modern wear for city hotels, this section contains all our lined garments, also known as "suiting".
Suits for men and women, made of quality fabrics with a semi-tailored cut, that are so attractive that to define them as work clothes is a bit simplistic!!
The coats and trousers for each outfit can be purchased separately; coordinated skirts and pants are available for women. Furthermore, some uniforms also come with a vest.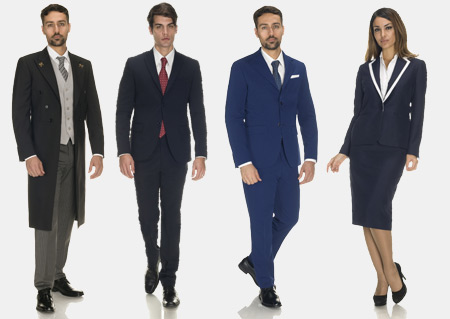 All professional receptionist attire is divided by type of fabric and then by color.
The first sub-categories, Venezia Series, City Stretch Series Windsor Blue and City Stretch Series Club Grey, Slim Fit Series Black and Slim Fit Series Deep Blue, refer to the most fashionable reception uniforms, with innovative colour, such as the Windsor Blue colour, and clothes with modern slim fit, for a contemporary and refined style.
In the sub-categories Lightweight Wool Morning Dress, Lightweight Wool Black, Lightweight Wool Sailor Blue and Lightweight Wool Anthracite, we introduce outfits in pure lightweight wool fabric, weighing approximately 260 grams, suitable for making elegant clothes with maximum comfort and an impeccable style. The receptionist uniforms made of Pure Lightweight Wool can be worn all year round (Four Season) and are especially appreciated in summer, thanks to the lightweight and freshness of the fabric.
The sub-category Summer Series Unlined refer to typically summer reception uniforms; thanks to the unlined workmanship of the coats, the apparel is particularly cool and suited for warmer periods.
In the sub-category Wool Blend Blue Pinstripe we present the Pinstripe suits made in Lightweight Wool Blend, an excellent compromise between the comfort of Wool and the durability of Polyester. Weighing about 300 grams, Wool Blend is ideal for making elegant and durable outfits.
In the sub-categories Poly-viscose Dark Blue, Hostess and Steward Blue Marine and Hostess and Steward Black, we present outfits in 100% polyester wrinkle free, or mixed polyester and viscose. This is a synthetic fabric, completely wrinkle free, with good comfort and breathability, excellent for manufacturing apparel which, even when subjected to heavy use, must always appear "new".
Lastly, in the Front Office Accessories section, you will find shirts, ties, scarves and ascots, jersey and sleeveless jersey, coordinated with the models proposed.