Hotel Wear: Porter uniforms.
In this section of hotel wear we present coats and outfits for Hotel Porters, Doormen, Chauffeurs and Valets.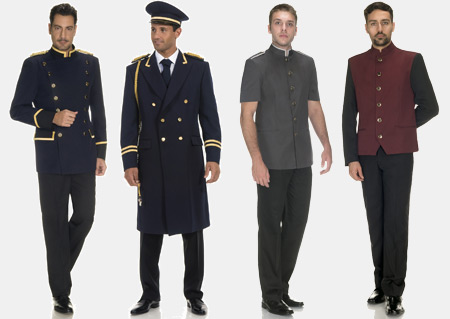 In the sub-category Porter Doorman, you will find clothes for personnel who come into direct contact with the public: hence the San Remo Coat and Savoia Coat, with the whistle braid, for the Doorman, and the San Marino and Jesolo Jackets, for porters; these items are enhanced with Gold or Silver trimming and double braided epaulettes.
In the sub-category Porter Bellman we introduce Napoli Jackets with mandarin collar for operational personnel; these are therefore less elaborate and flashy and usually come in basic colors.
The sub-category Valet Grey have been designed primarily for Hotels and Holiday Resorts; the short sleeves of the Erice Jacket or Viareggio mandarin collar jacket make it possible to work with greater comfort during the hot season. This section also offers the Arezzo coat, especially suitable for couriers and factotums.
In the sub-category Porter Accessories, you will find buttons and spare epaulets, under jacket bibs and under jacket collars and doorman hats.
The Hotel Wear in this category, given the intended use, is manufactured in durable wrinkle free Gabardine Plus, and for summer garments, in light-weight polyester and cotton Gabardine.
Upon request we can manufacture suits in wool blend and Wool or Twill coats.