Professional Wear for Restaurants and Bars.
In this section of the site, we offer professional wear for Restaurants and Bars, hence for the maitre d', waiter and sommelier, bartender and table service.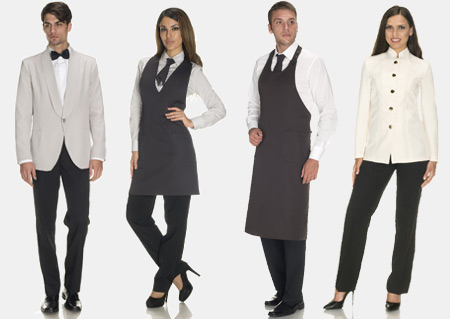 The items, available for unisex or man/woman fit, are divided by type, from the more challenging outfits for hotel Restaurants, to the more modern and youthful outfits for bars and casual premises.
In the sub-categories Maitre and Sommelier you will find Jackets, Tailcoats and Tuxedos for maitre, Spencer and aprons for the sommelier uniform.
In the sub-category Jackets Color White, Jackets Color Ice Gray, Jackets Color Sand, Jackets Color Cream, Jackets Color Safari, Jackets Color Smoke Gray and Jackets Color Black we present work clothes for restaurants, hence Jackets and elegant Spencers, suitable for exclusive hotel restaurants and for banquets and catering in general.
In the Vest Solid Color and Vest Pinstripe sub-categories, we propose all our Vests in plain colors (Parigi and Toledo) and Pinstripe.
For bar apparel, the sub-categories Bistro Aprons, Denim Aprons, Hemp-like Aprons, Metal Grey Aprons, Gold Morocco Aprons, Onyx and Pearl Aprons, Nocciola and Gianduia Aprons, Striped and Pinstripe Aprons, Ring Burgundy Aprons and Bar Small Aprons, you will find all aprons divided by color and pattern.
The sub-category Restaurant and Bar Accessories, where we offer bow ties, ties coordinated with Jackets, Vests and Aprons, Caps and numerous various accessories such as: Gloves, Elastic Cummerbunds, Spare Buttons, etc. complete this professional wear section