Professional Front Office Wear: Accessories.
Elegant and refined, the accessories in this category represent the natural finishing touch to the front office uniforms proposed in this section of the site.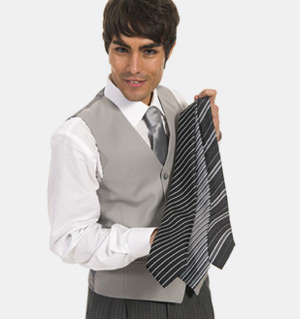 In the sub-category Front Office White Shirt, you will find a selection of our stylish shirts, ideal for reception suits, both in classic and modern model.
In the Subcategory Front Office Colourful Shirts, we offer the shirts in plain color and classic striped, for those who prefer to liven up the front office uniforms with a color touch.
In the sub-category Ties, you will find a large assortment of classic Ties, available in plain color, polka dots and striped (also known as Regimental). Used mainly by male staff, in recent years these ties are also increasingly valued by women.
In the sub-category Scarves and Ascot, we present accessories for women that are indispensable to brighten uniforms and give them that female touch. In addition to scarves in polka dots, there are also ascots in Jacquard design coordinated with the ties.
Lastly, the sub-category Parka and Jersey contains knitted clothing and the elegant winter jacket.