Accessories of Work Clothes for Waiters: shirts, skirts and trousers.
Shirts have a prominent position in Work Clothes for waiter. In this section you will find a large assortment of shirts for both men and women, in pure cotton and in mixed polyester and cotton fabric, recommended for the uniforms of Restaurant and Bar.
From classic to close-fitting models, this section includes a variety of shirts, both in basic colors like white and black, as well as modern and contemporary colors such as Beige, Colonial, Light Gray and London Gray.
Several models of male and female trousers and skirts complete the work clothes included in this section.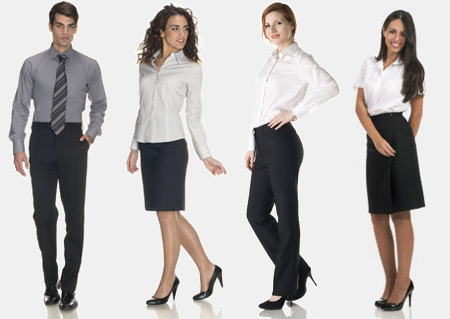 In the sub-category Waiter Shirts we present the shirts in polyester and cotton fabric; these are shirts long-lasting, they wrinkle less than pure cotton and are therefore ideal for the waiters uniforms.
In the sub-category Short Sleeves Shirts, you will find the short sleeve summer shirts, excellent for those who want an item that is particularly fresh and comfortable.
The sub-category Close-fitting Shirts includes "slim" wear stretch cotton shirts.
In the sub-category Women's Skirts and Trousers and Men's Trousers, you will find classic and modern styles in Black and Blue. The items, in this section are all suitable for working in Restaurants e Bars.