The atmosphere of a luxury hotel, most of all if it's really exclusive and all the more so if it overlooks "That branch of the Lake of Como", can be defined only with charming words. In order the magic to come true, however, all details must be perfect, starting from the image of those who work there.
Grand Hotel Villa Serbelloni in Bellagio is perfectly aware of this. Since 1872 it's a reference point for Italian nobles and now it granted to Corbara the responsibility of its uniforms for waiters and porters. Their preference for the professional line of clothing from Salerno derives both from the quality of the garments and from the professionalism level required by the complicated transposition of their embroidered logo.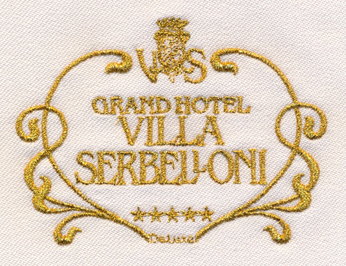 As to waiters, Grand Hotel Villa Serbelloni chose to be represented by Roma and Spencer Pavia Jackets. Upon request of the customer, the garments have been made with a white 100% Cotton Gabardine Plus. Roma Jacket is a jacket for men with shawl collar and an elegant and fine look, Spenser Pavia is dedicated to women, being shorter and fitting at the waist. Both jackets are closed by a single golden button and embellished by the embroidered logo of Grand Hotel Villa Serbelloni.
Varese Jacket for men, made with a 100% polyester fabric according to the customer's request, is characterized by the contrast between the white of the garment and the maroon of the cuffs and of the collar. In this case too, the hotel's logo is embroidered on the heart zone of the jacket.
San Marino Jacket was chosen for the porters in the following colour variants: Blue Navy and Green. The garments are embellished by golden stripes on the sleeves and on the collar and the importance of the uniform is increased still further by the shoulder pads and by the customer's logo, embroidered on the left side of the jacket.
What's Grand Hotel Villa Serbelloni?
Grand Hotel Villa Serbelloni is one of the oldest and most elegant hotels in the whole area of the Lake of Como and the only five-star hotel in Bellagio.
The beauty of the lake and the unique panorama of Bellagio fascinate tourists coming from all around the world. Grand Hotel Villa Serbelloni boosts the surrealistic experience of this Earthy Paradise thanks to its restaurants, tennis courts, swimming pool on the lake, its exclusive SPA or simply its wonderful garden.
If you want to enjoy a top-class holiday in one of the most beautiful places of the world, please visit the web site: www.villaserbelloni.com