Casual work clothes: Polo and T-shirt.
This category represents our collection of casual work clothes: men and women Polo Shirts, classic and colorful T-shirts, casual slacks, Bermuda shorts and caps, all of which are designed for practical and fashionable workwear.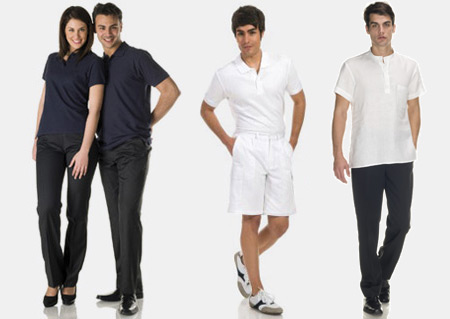 The sub-category Lifeguard is dedicated to Lifeguard uniforms: bathing shorts, red T-shirt and a red tank top with the white print "Lifeguard".
In the sub-category T-Shirt, you will find white t-shirts for the kitchen and laboratory, and colorful ones for equipe and crew.
In the sub-category Polo Shirts, there are polo shirts for male and female with classic fit and slim fit. Available in many colors, polo shirts represent a modern alternative to the classic bar and waiter clothes.
In the sub-category Trousers and Bermudas we introduce Bermuda Pants and slacks, such as jeans, in both white and Navy Blue.
In the sub-category Beach and Pool, we present the linen shirts and cotton shirts and the coordinated summer trousers.
The sub-category Hats with hats with visors and bandanas, completes this section of work clothes.