In the distinguished setting of Sigep in Rimini, the Sigep Young 2013 Competition took place. Several pupils coming from 10 hotels and cooking schools of the peninsula participated.
Organized by Rimini Fiera with the participation of Pasticceria Internazionale (International Pastry Making) and the coordination of Mr. Samuele Calzari, the event was aimed at recovering the tradition of Italian and world pastry making, boosting the exchanges and the comparison among the pupils.
Corbara – which has always been partner of young talents – took part too, providing Chef uniforms to the team who won the competition.
The uniforms they chose belong to Grand Prix line but they have been customized in Orange color, and consist of the jacket - with orange collar with tricolour trimming and the name of the chef embroidered on the heart area - and the orange apron with the trimming of the same colour.
The competition took place in the arena area of Sigep in Rimini. Dozen young "challenged" in a serene climate, surrounded by a very professional atmosphere.
Who are the winners?
The winners are the class IV white art of the I.F.P.A. Hotel School in Rovereto, excellent training centre – both from a theoretic and from a practical point of view – seated in Trentino.
Here are the names of the members of the winning team: C. Cuel, P. Hu, J. Dupkarova, A. Linardi accompanied by their teacher, Mr. Eliseo Bertini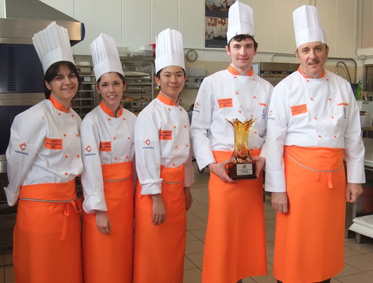 In the picture you can see the winning team wearing Corbara's chef uniforms